Celebrating July 4th in New Orleans 2022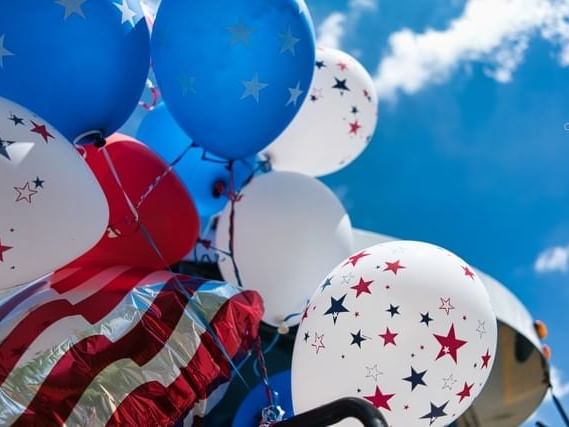 Things to Do in New Orleans July 4th Weekend
The July 4th festivities ramp up the weekend before, with an assortment of food and music-filled celebrations and events throughout the city.
Every year locals and visitors flock to the Mississippi Riverfront for one of the most amazing fireworks displays. Go Fourth on the River kicks off at 9 PM on Monday, July 4th. Some prime viewing spots for the show are Woldenberg Park and the Moon Walk.
Located in the French Market District, this urban park lies along the riverfront. It offers grassy areas, a bike path, and panoramic views of the city. From 5 PM to 9 PM on July 4th, you can join others for music, food, and fun. Plus, it all culminates with unbeatable views of the fireworks from the Dueling Barges on the river.
The New Orleans WWII museum is the official World War II Museum of America, opening in 2000. The museum houses over 250,000 artifacts, including many that are in storage for further research.
Visitors walk through five different pavilions, each showcasing exhibits that reflect various parts of WWII. It's a great way to beat the heat, remembering how our country strove to uphold freedom centuries beyond 1776.
Essence Fest is back and better than ever in 2022. The iconic celebration of black culture is ready to welcome everyone for an incredible weekend of food, music, and so much more. The fest runs from Jun 30 to July 3rd and features performances by Kevin Hart, Nicki Minaj, Janet Jackson, and many more.
Celebrate July 4th by attending a play about one of America's most famous founding fathers, Alexander Hamilton. Hamilton, one of the most popular Broadway musicals of the past decade, performs this summer at the historic Saenger Theatre New Orleans. The show will feature several performances during July 4th weekend.
New Orleans in July: Weather
There's no getting around the fact that New Orleans in July is hot. But don't let that dissuade you from making a trip to the Big Easy in the summer. It's actually a great time to snag some fantastic deals on food, hotel rooms, and attractions.
Just prepare for the average highs of 92 degrees and the higher potential for rain. Pack cool clothing, lots of sunscreen, and your trusty poncho and umbrella. Also, pack a spare pair of comfy walking shoes in case your first pair needs to dry out one night.
After your 4th of July celebration, you can relax and unwind in the plush accommodations at the St. James Hotel. You'll have all the comforts of home in your charming retreat, where luxe elegance meets southern hospitality.