It's Gumbo Season!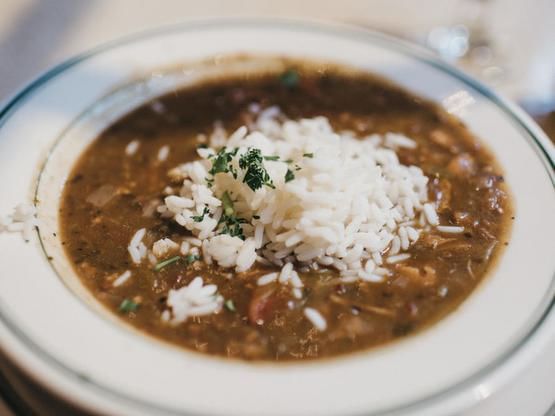 Gumbo is consumed year-round in Louisiana, but it really hits the spot when the temperatures are a little cooler. Made of a mix of protein, whether from the sea or land, a thick roux, and the "holy trinity" of all Louisiana cuisine – celery, bell pepper and onion – many compare gumbo's mix of ingredients to the complexity of the south.

Gumbo is certainly a hodge-podge of cultures, made up of culinary pickings from across the globe. "Gumbo" comes from the African Bantu word for okra, "nkombo." Gumbo is typically thickened with either okra or filé. Never heard of filé? It's a Native American cooking powder, made up of dried and ground sassafras leaves. Then there's the roux, which comes from France and other places in Central Europe.

Best of all, there's no "right way" to make gumbo. Gumbo's just about as ambiguous as food comes. You can make it with sausage and chicken, duck, squirrel, or rabbit. Or, make it a seafood gumbo, with shrimp, crawfish, crab meat, and fish. You can toss in andouille sausage. Make a vegetarian gumbo, or a vegan gumbo if you feel compelled. It can be thick or thin. It's versatile for any palette and best served with rice.

Want to eat like a local? Try the seafood gumbo from the New Orleans Chophouse or our own Cafe Flamant.