New Orleans Thanksgiving: Try Some Étouffée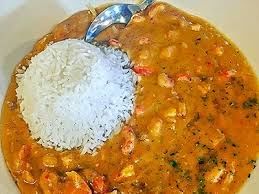 When it comes to food, no one does it better than New Orleans. On Thanksgiving Day, New Orleans locals enjoy many of the traditional Thanksgiving favorites, like turkey, stuffing, and cranberry sauce. However, it's also not uncommon to find a few Big Easy favorites among the side dishes.
Whether it's a starter of oyster soup, a side of jambalaya, or a hearty helping of our featured New Orleans favorite, étouffée, you're sure to have more than enough to eat when you celebrate Thanksgiving NOLA style.
A Brief History of Étouffée
The word étouffée means "to smother" or "to suffocate" in French. It's an appropriate name for this dish since when you make it, you are literally smothering shrimp or crawfish with all sorts of yummy goodness and spices. It's often confused with gumbo by the uninitiated, and understandably so. Like Creole gumbo, étouffée features Creole seasonings, it's served over rice, and it showcases a fabulous roux, although the roux is often lighter and sweeter than the typical Gumbo variety.
Although you can find shrimp or crawfish étouffée throughout New Orleans, it's believed that this dish first popped up in the early 1920s, in Breaux Bridge, Louisiana (The Crawfish Capital of the World). As the story goes, the owner of the Hebert Hotel, Mrs. Hebert herself, created the dish using crawfish tails, fat, onions, and pepper. Soon, the tasty recipe started making its way into various Breaux Bridge restaurants, evolving a bit as it went and becoming a thicker stew.
It wasn't until 1983 when a waiter at the renowned Galatoire's Restaurant had his boss taste some étouffée, and the rest is history. New Orleans restaurants have been serving up shrimp and crawfish étouffée ever since, and you would be hard-pressed to find a Creole restaurant that doesn't include this seafood stew on its menu.
Make Your Own Étouffée
Here's a recipe for shrimp étouffée, adapted from Nola Cuisine. Whip it up as a side dish for the ultimate New Orleans spin on your Thanksgiving feast! When used as a side, this recipe serves 4, so increase the ingredient amounts as necessary to ensure everyone gets to share in the deliciousness.
Shrimp Etouffee Recipe
Two tablespoons of Creole seasoning

Four tablespoons of unsalted butter

½-cup of finely chopped onion

¼-cup of finely chopped celery

¼-cup of finely chopped bell pepper

¼-cup of flour

¾-cup of diced fresh tomatoes

1½-cups of shrimp stock

Two tablespoons of minced garlic

One bundle of fresh thyme

Two teaspoons of Worcestershire sauce

One teaspoon of hot sauce

½-cup of thinly sliced green onions

Three tablespoons of minced Italian parsley

Two pounds of shrimp, peeled and deveined (save the shells for the stock)

Three tablespoons of unsalted butter

Kosher salt, ground black pepper, and cayenne to taste
Rice
1-cup of Basmati or Jasmine Rice

1-quart water

Two bay leaves

One tablespoon of Kosher salt
Use one tablespoon of the Creole seasoning to season the shrimp. Melt the butter in a large skillet, and add the onions, bell pepper, and celery, sauteing until translucent.
Whisk in the flour to create your blonde roux, continually stirring for about three to five minutes, then mix in the remaining Creole seasoning. Next, add a small amount of the shrimp stock and stir well to form a paste. Then, gradually add in the remaining stock, whisking constantly.
Bring the whole mixture to a boil, then reduce to low and simmer. You want the mix to be not too thin and not too thick. Add the tomatoes, garlic, thyme, Worcestershire, hot sauce, and season with a little salt, pepper, and cayenne. Simmer for another 20 to 30 minutes.
Next, add the shrimp, green onions, and parsley. Simmer for an additional 10 minutes, or until the shrimp are cooked through. While this is simmering, make your rice.
In a separate pot, bring one quart of water to a boil with the two bay leaves. Add the Kosher salt and the rice, and stir so the rice doesn't stick, but then stop stirring! Then, partially cover the pot and let it cook for about 11 minutes.
When the rice is almost done, move back to your shrimp mixture and stir in three tablespoons of butter, and season to taste.
Once the rice is tender, drain and remove the bay leaves. Then portion out your shrimp mixture over the rice to serve your fantastic étouffée
Best French Quarter Restaurants for Étouffée
If you prefer to let someone else do the cooking, head to one of these restaurants for some of the best étouffée in the French quarter.
Royal House -- This oyster bar and restaurant offers an airy atmosphere and mouthwatering southern Louisiana cuisine, including fresh seafood, oysters on the half-shell, and some incomparable crawfish étouffée. You can make reservations through the website or call in an order for take-out or delivery to your cozy hotel room.
Mr. Ed's Oyster Bar -- With multiple locations throughout the city, this local favorite feeds many tourists and locals. Stop into the restaurant at 512 Bienville St. for some fantastic fresh seafood and authentic local cuisine, including crawfish étouffée that is among the best in the city.
No matter what you decide to serve up this Thanksgiving, one thing is for sure, you won't be able to put down your fork because it all tastes so good! Here's wishing you a very Happy Thanksgiving from the heart of New Orleans!