Summertime Weddings in New Orleans: Tips to Beat the Heat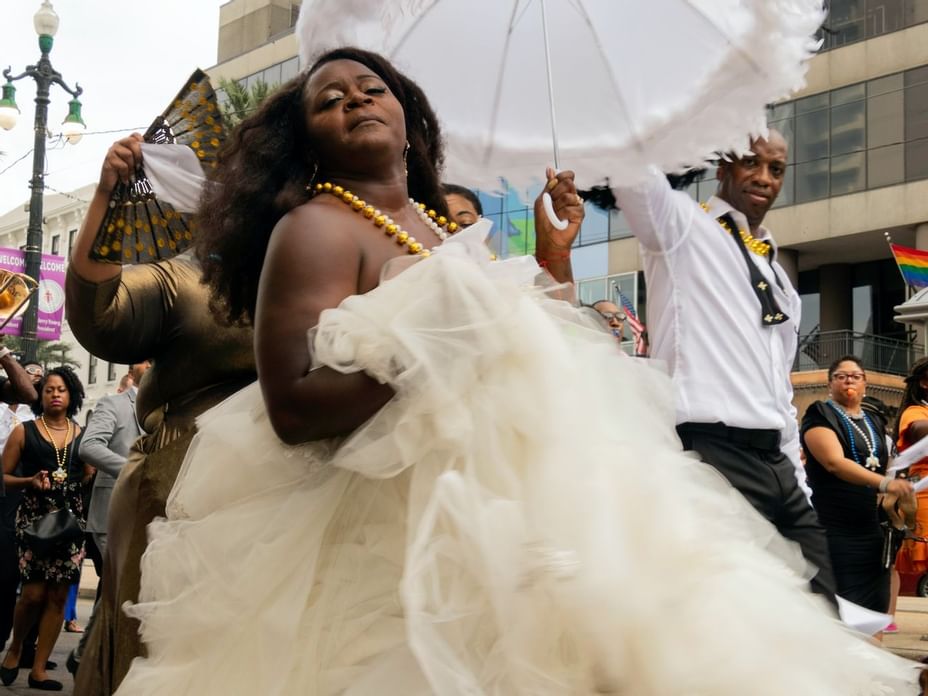 Keep Cool on Your Wedding Day in NOLA
You might not want cold feet on your wedding day, but you don't want to be sweating in your heels, either. New Orleans is a great place for a wedding, even when the thermometer keeps moving up. Nerves and sweaty palms aside, these tips will help you and your guests stay calm and cool on your big day.
1. Skip the Metal Chairs Outside
Remember when you slid down that metal slide at the playground when you were a kid? If it was hot outside, you likely got a few hot spots and burns on the way down. If your ceremony or reception is outside, skip the metal chairs. If metal is your only option, ask about slipcovers or seat cushions to keep your guests comfortable.
2. Book an Indoor Venue
Many local venues feature both outdoor and indoor arrangements, including the beautiful and unique New Orleans Board of Trade, conveniently located next door to the St. James Hotel. When choosing the ideal location for your special day, aim for places that provide an indoor area where guests can pop in for some refreshing AC when they need it.
3. Hire Local Vendors That Understand the New Orleans Heat
There's no heat quite like New Orleans heat (hello, humidity). When planning a destination wedding in New Orleans, choose local vendors who understand how the city's blazing summers affect things like hair, make-up, and flowers. (No bride wants to carry a wilting bouquet down the aisle while sweating off her makeup.) Even if your best friend is an incredible makeup artist, they may meet their match when it comes to New Orleans in August.
4. Keep Your Wedding Menu Light
Who wants to eat a plate full of pasta and heavy cream sauce or steaming hot red beans and rice when it's 100 degrees? Discuss the menu with your caterer and select light choices like Louisiana Gulf shrimp cocktail, mini po-boys and muffulettas, and similar selections. It doesn't mean you can't serve anything hot, but make sure to mix a variety of cold dishes into your wedding day spread.
5. Serve Cold Cocktails and Snoballs
You may already be planning to serve some classic cocktails for a NOLA wedding. But to help guests escape the sweltering heat, mix in some icy beverages like a New Orleans Daiquiri or frozen Hurricane. Another great idea is to set up a snowball station, which is sure to be a hit with kids and adults.
6. Refrigerate Your Cake Until It's Time to Serve
Hot temperatures, the outdoors, and sweet, sugary frosting is a recipe for a bug magnet. Don't invite flies, gnats, mosquitoes, and other unwelcome guests to the party. If your reception is outside, keep your cake in the fridge until it's time to serve. Yes, it's tradition to have the wedding cake on display throughout the reception, but this is one time when your guests will thank you for waiting.
7. Choose Functional Wedding Favors for Your Guests
Handing out favors to your guests is a popular way to show them your appreciation. Your guests will be equally appreciative if you give them something they can use to conquer the heat. Second Line handkerchiefs, miniature battery-powered fans emblazoned with a heartfelt message to guests, or hand fans sporting images of New Orleans are all excellent picks.
Celebrating a Summertime 'I Do' in New Orleans
The St. James Hotel is the perfect place to stay when celebrating a New Orleans wedding. Its convenient location to many of the city's best attractions, elegant atmosphere, and charming ambiance make it a popular choice for blushing brides, eager grooms, and excited wedding guests.